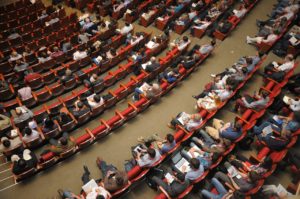 The Asia Pacific Energy Assembly takes place January 30-31, 2019 at the Raffles City Convention Centre in Singapore.
From the conference website:
Under the theme of "Energy Vision in Action", the 2019 Asia Pacific Energy Assembly will once again convene the most influential energy investment network in the world in Singapore.

Explorers, producers, buyers, traders, investor and financiers will all gather to discuss the outlook for the Asian Pacific marketplace; prices, deal flow, strategy, capex, joint ventures, and business development. Where are Asian NOCs and SOEs investing in 2019? What capex plans do IOCs have in the region? Where are the new business opportunities in gas, LNG, FLNG, FSRU, Import Terminals, Regas and Gas-to-Power? Are Asia's capital markets open for energy companies to raise finance? Who are the emerging new independents pioneering the upstream, midstream and downstream sectors? What role will energy traders, power companies, sovereign wealth funds and utility companies have in determining the direction of the marketplace?
For more information, please visit the official conference website.