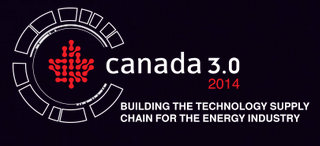 DocBoss has been selected to attend Canada 3.0 with the Canadian Digital Media Network (CDMN) as part of the Startups @ Canada 3.0/CESCF contest. Over 40 startups from across Canada applied, with the selection being made by a CDMN panel. The decision was based on a number of factors, most notably the relevance of the product to the energy industry, particularly the oil & gas sector, and the overall quality and readiness of the product.
Here are more details about the event:
Canada 3.0 has partnered with the Canadian Energy Supply Chain Forum (CESCF) to bring together leaders in both the energy and technology sectors to discuss innovative ways to help 'Build the technology supply chain for the energy industry'.
Canada 3.0 will highlight the many ways that the technology and energy sectors can engage one another to help drive innovation in the Canadian energy industry and meet its challenges head on.
Takes place in Calgary, October 28-30, 2014.
DocBoss hopes to connect with EPC and End users with whom our customers interact, and find way to simplify the document submission process.
Thank you Canada 3.0!