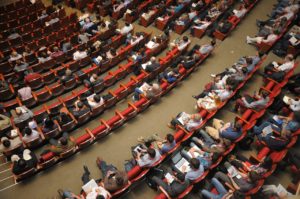 The Oman Oil & Gas Exhibition & Conference takes place at the Oman Convention & Exhibition Centre, Muscat, Oman in March 2020. The exhibition occurs from March 9-11, 2020 and the conference takes place from March 8-11, 2020.
From the conference website:
OGWA is a biennial international exhibition and conference that brings together local and international oil and gas companies from the GCC, technology and service providers, equipment suppliers, and other companies directly serving the industry's requirements.

It is a platform for discussing the latest developments and directions of the industry, as well as for trade and business opportunities among the local and international oil and gas companies. Launched in 1998, it has since been under the patronage of the Ministry of Oil & Gas and has consistently received the support of Petroleum Development Oman (PDO), Oman LNG, and many other leading oil and gas companies.
Check out the conference website for more information.