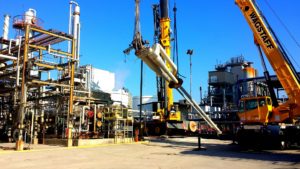 Many process equipment suppliers are keenly aware of how the depressed price of oil has put a crimp on their sales over the past several years. By and large, projections for the price of oil for 2018 is under $55/barrel as outlined in a recent Seeking Alpha article on the subject which included the following quote:
After the new OPEC deal has been announced, it did not take long for analysts to predict a resulting shale boom limiting the increase in the average price of WTI to no higher than $55/barrel. It is also argued that Russia will go back to pumping oil at a higher rate next year, even though there is no clear argument in my view to expect such an outcome. The big headline in regards to next year's oil price expectations is of course the assumption that total US production will surpass 10 mb/d next year. The headline alone is an emotional reason to expect an average price for oil that is likely to be somewhat lower than the actual price we are seeing right now.
On top of this, global oil demand projections have been revised down for 2018 as well to 1.3 mb/d.
More recent predictions have suggested that crude could approach $59/barrel in 2018.
Clearly this is a moving target that continually gets updated as the days unfold so it will be interesting to see where price and demand fall in 2018 compared to current predictions.
UPDATE: After this post was written, oil had already exceeded many people's 2018 expectations and had exceeded $64/barrel at the time of writing this update.