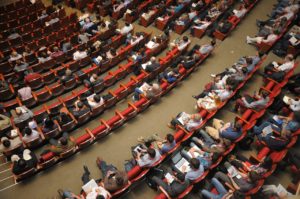 The 2019 GPA Midstream Convention takes place April 14-17, 2019 in San Antonio, Texas.
The convention is taking applications to speak at the conference until October 31, 2018 so you still have time to apply if interested.
If you're interested to attend, you might like to know that the convention attracts over 2,000 visitors from around the world from a wide variety of fields in natural gas. From the official convention website:
The 2017 GPA Midstream Convention hosted nearly 2,200 attendees representing more than 600 companies and 24 countries. Countries represented included: Argentina, Australia, Bahrain, Belgium, Brazil, Canada, Germany, Denmark, Egypt, France, India, Japan, Korea, Mexico, Holland, Norway, Qatar, Saudi Arabia, Singapore, Thailand, Trinidad, United Emirates, United Kingdom and United States.

A large percentage of GPA Midstream Convention attendees are decision-makers within their companies, with nearly 20% holding an executive title (chief executive officer, chief operating officer, president, director, senior vice president and vice president). A large percentage of attendees at the executive level have an engineering degree and background, as do the more than 30% holding a manager title.
Visit the official convention website for more details.