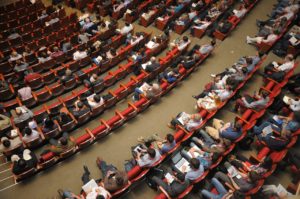 The 10th Brasil Offshore oil and gas show runs from June 25-28, 2018 in Rio de Janeiro.
From the official conference website:
Brasil Offshore is the Brazilian oil and gas industry trade show and the first event on the business calendar forOperators, EPC professionals, Integrators and Suppliers, especially from companies operating in the Campos Basin.

Brasil Offshore, created based on a need for a space that joined innovation, content and opportunities to foster business and competition in the sector, is now in its 10th edition, promoting an event geared towards the future of the industry and the Campos Basin, with experiences and a full exhibition aimed at new technologies and solutions for the entire oil and gas exploration and production chain.

The commemorative 20th anniversary edition of Brasil Offshore will be held under the auspices of the renewed growth in the sector and of the positive outlooks in relation to the success of recent bidding and a timeline established with new rounds of bidding set to take place through the second semester of 2019. All of this is in addition to a highly technical environment with unique opportunities for networking, business and continuing professional education.
Visit the official conference website for more information.