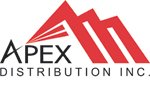 DocBoss welcomes Apex Distribution. Based in Canada and founded in 1999, Apex Distribution is a distributor of industrial and oilfield products and services to a wide variety of industries including oil & gas, mining, forestry and food. Products distributed include a wide variety of valves, pipes, instrumentation, production & drilling equipment, and more.
Headquartered in Calgary, Alberta, Apex Distribution has 2 subsidiaries – Apex Remington and Apex Valve Services – as well as an associated company Apex Western Fiberglass to better serve its customers. Over the years, Apex Distribution has grown organically in addition to acquiring companies during this time and has locations throughout Canada and US.
Welcome aboard Apex Distribution!