We constantly upgrade DocBoss features and benefits and you can keep track of ongoing upgrades by viewing the DocBoss release notifications page.
One of the aspects of DocBoss that received attention is the user interface that all DocBoss users see when they login. Here are some great features that you can take advantage of.
Project menu search
When you are in a project you can use the Project Drop down the search/navigate to other projects. We have added a default filter only display the projects for that customer.
You can remove that filter at any time and the next time you use the dropdown it will reappear.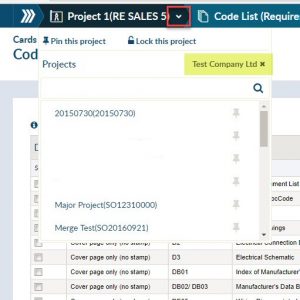 Main Menu – Add Project  
You can now add a new project from the main menu drop down.
Submittal Pages
Incoming Docs Dashboard
Shows Files from <Customer Name>
Sub Supplier Submittal
Inside any Sub-Supplier submittals, it will display the Sub-Supplier Name (assuming it was selected when creating the folder)
Assign to Document Card
We have added some additional grid row coloring to easily identify unlikely targets and newly added cards. Mouse over the Grid Row Colors for complete details.
In addition, this grid now includes any applicable List Columns. For example – Eq(tag) Lists, Major Tag List, and any Custom Lists.