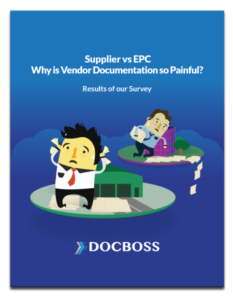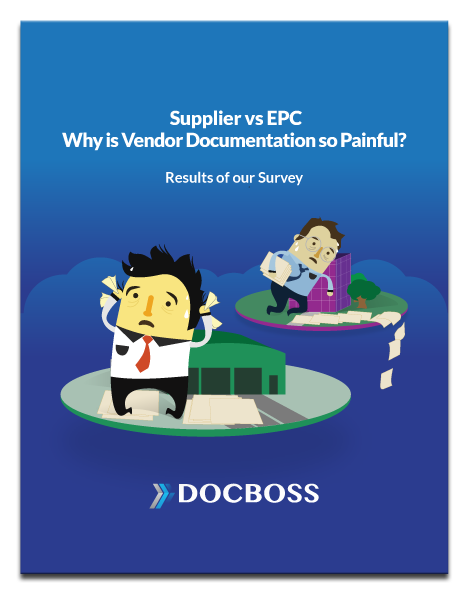 We conducted a survey entitled Supplier vs EPC, Why is Vendor Documentation so Painful? We polled a total of 106 respondents – 45 suppliers of process equipment and 61 EPCs – and asked them questions about about the difficulties, challenges and frustrations they each encountered executing project document control.
19 of the respondents are current DocBoss customers.
We found many interesting takeaways from both sides' perspective.
One interesting point:
75% of suppliers reported experiencing payment holdbacks related to documentation.
15% of them agreed it was a fair practice while 25% felt it was a ploy to defer payment. Most suppliers are frustrated by EPCs who are slow to respond; 50% agreed that with shorter review/approval cycles, they would categorize holdbacks as fair.
EPCs don't choose suppliers based on document management skills. It would seem that although document control is an important factor in the execution of a successful project, a supplier is rarely evaluated on this skill during the selection process. In fact, only 21% of EPC respondents listed supplier document management skills as a criterion when evaluating potential suppliers.
Although high quality document control is a basic expectation of EPCs, very little time is spent during supplier selection and project kickoff to set up the project's document control scope for success. This leads to more time spent during the course of the project managing documents, costing additional time and money on both sides.
Only one in four suppliers reported that most of their documents are approved upon first submission. The same proportion felt that their document submissions are never approved the first time. Obviously some EPCs are very good at giving clear document requirements, and some give very poor, unclear, or unrealistic ones.
How can DocBoss help? 
DocBoss minimizes the manual work required to deliver project documentation. With a unique solution which creates and links the document register to the order data, DocBoss systematically creates document metadata (including document specific tag lists).
We then use this data, (along with a heavy dose of document management and document formatting magic), to comply with document submission specifications. The DocBoss system appends customer specific cover sheets to every document, includes all relevant metadata (including tag lists), tracks approval status, location, transaction history and due dates.
Finally, DocBoss creates every document compilation (record books, shipping dossiers etc.) required for the job.
If you can virtually guarantee that you will meet customer requirements the first (and only) time you submit documentation to them, shouldn't this eliminate any legitimate excuse for a holdback?