Vendor Docs and Vendor Data.
Now it's a love story.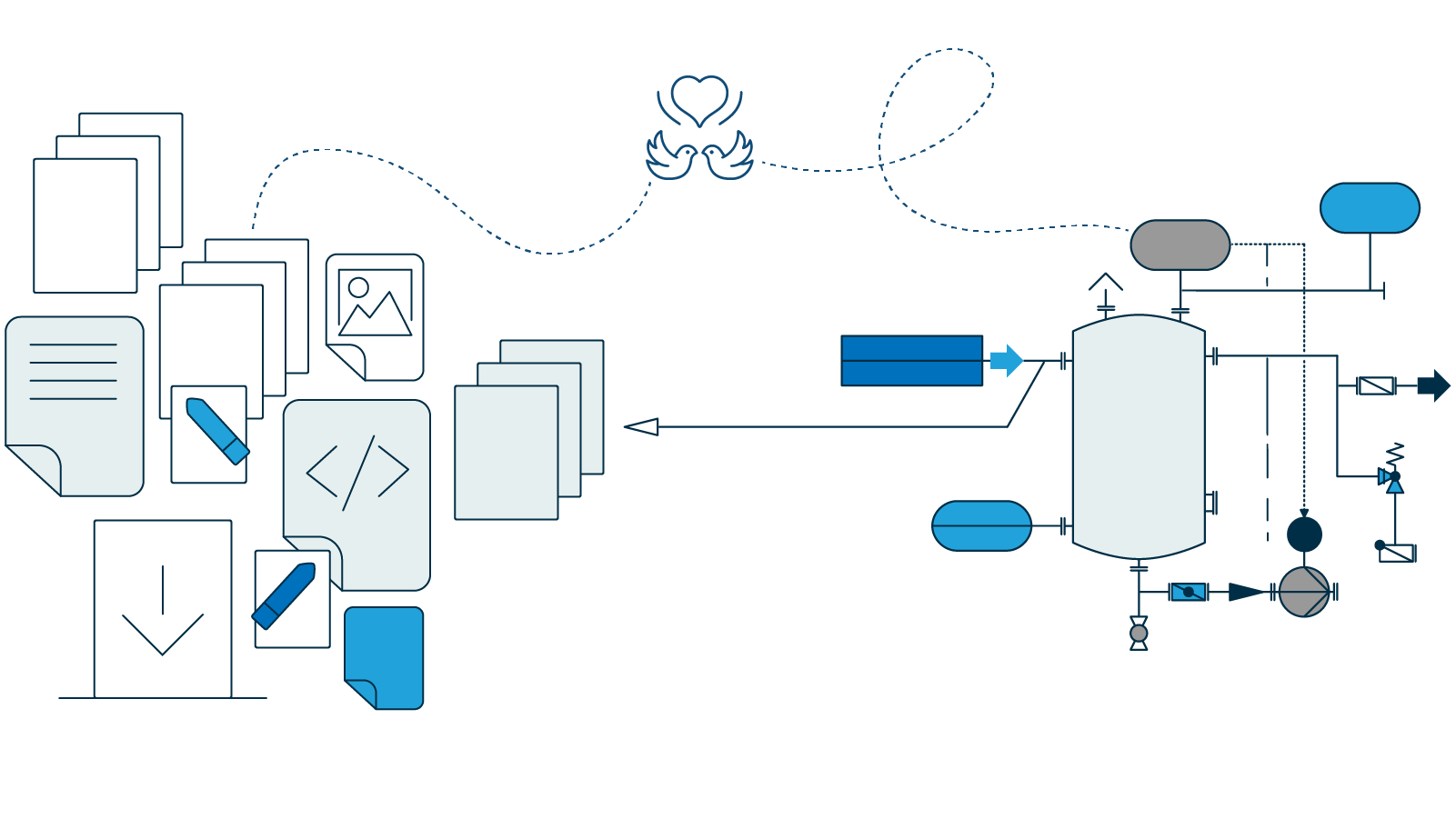 Know *exactly* what you're trying to collect.
Vendor Docs
Knowing the EXACT document and data deliverables scope is challenging for any project.
DocBoss gives the owner (and their EPC partner) a unique opportunity to automate the creation of vendor document and data registers upon issuance of equipment purchase orders. Stop relying on vendors for detailed document registers and get completion percentages from the start of your project.
Vendor Data
And – not only for documents!
With our upcoming vendor data module, you upload the data requirements for every class of equipment. Through DocBoss, you and your vendor manage the exchange of the information – submission, routing, approval, rejections – all at the field level. The data is synchronized to your engineering system at the intervals you require. Ensure that everything is checked, and know how much work there is to do at any time.
Get through construction and commissioning faster than ever.
When looking at vendor documentation, having all of the required files is only half the battle.
DocBoss specializes in collecting all of the related tag to document relationships as an intimate part of the collection process. Rest assured that when you enter that tag number into your system – every relevant piece of documentation will be at your fingertips.
Tell me more about the vendor documentation piece.
When it comes to vendor docs, buyers have always needed to:
Capture tag to document relationships
Identify missing documents
Ensure second submissions are not logged as NEW documents
Generally, this data is hard to accurately obtain. The result is complex submission protocols being applied to vendor submissions (including buyer-supplied front sheets, transmittals, indexes, etc…).
Why DocBoss for vendor docs?
DocBoss for Buyers solves vendor data, documentation and meta-data (tag to doc relationships). The shared vendor register eliminates vendor clerical work while ensuring the required data is in place. It enforces document control best practices while reducing duplication of effort. Offering value to both participants, it provides a pathway for adoption.
Document containers enforce data provisioning.
With Docboss, vendors create containers for every document prior to upload. In many cases, you can automate the creation of the required containers!
To create a new container, the vendor must select from a list of available tags, and from a list of available document codes. You are assured of getting both the tag data, and the document type. The containers also have placeholders for document numbers from each involved party (sub-vendor, vendor, EPC, owner). On upload – the vendor drags the relevant file into the matching container. They then can update the revision, add a comment, and review/edit all other metadata.
Validate submissions
When the vendors have uploaded their docs, and have chosen to submit them – you have an opportunity to validate the submission. You flip through each document ensuring that each has been put in the correct container and that the tags, code, title, and rev data are all correct.
Because you are now working in a shared environment, if you notice an error, you have the option to simply correct the information, or push the document back to the vendor. This review is PRIOR to transferring the document into your own system, so the review process can be much faster, and iterative. In effect – documents pushed out of the submittal are treated as if they were not included at all. So the submittal you transfer into your systems will not show the pushed document at all.
No duplicate documents
With vendors responsible to file documents into containers, they invariable do a good job of matching re-submissions into existing containers. This eliminates issues with document duplication which plagues some projects.
And, because vendors are shown the metadata on each upload, they can keep information current if anything changes.
Share the work when filling in the vendor data for each piece of equipment.
Define which fields should be completed by vendors, and as they complete and submit, be sure someone is checking and approving the information. As changes happen during the project, the appropriate flags are raised, and the seller is flagged to revisit the data and validate everything remains accurate.
A bulletproof system of field-level approvals and tracking is enforced, and the days of shared excel spreadsheets fade into the distance.
Reduce workload on the vendor staff.
Getting vendor buy-in is critical to the system functioning properly. The last thing you need is for vendors to feel they have been forced into additional work.
With DocBoss, vendors do have some work to do. While creating containers doesn't require additional work (they were tracking each document anyway), the matching process on upload is new. This process is very intuitive, so it should be very low resistance, but there is work to do.
As an offset – remind your vendors that they no longer need to append front sheets to any document. They need not generate transmittal sheets and prepare index spreadsheets. They need not update their sheets with return submittal and status details. Headers and footers are done by the system, and (most importantly) the entire data book creation process is executed in DocBoss.
So long as the vendors will drag their documents into the correct containers (or match them via excel upload), their work is done. Compared to the alternative, this process saves them a vast amount of time.
Add value to the vendor's process.
DocBoss provides several other benefits available to vendors.
The ability to auto-generate containers based on equipment and doc requirements can help define the scope of the deliverables. When changes occur in the equipment lists, DocBoss can suggest the impact on documentation requirements. We support document control best practices and require no software to be installed – the system is cloud-based and accessed through a normal web browser.
Based on our recent survey, few vendors have document submission systems in place. While providing a method to submit documents, DocBoss also provides vendors with up-to-the-minute statuses of all documents, stores all submittal and tracking information, and keeps copies of every version of every document. Customer returns are downloaded directly from the DocBoss portal.
If the vendor DOES have a system in place, we support the import/export of all incoming and outgoing documents. Vendors can upload the document containers (document numbers + tags + codes), and can even match uploaded files to containers via excel or CSV.
Vendors are faced with various buyer-side software systems which add cost to their operation.
DocBoss is committed to keeping the vendor portal free for vendors working with DocBoss subscribers. Vendors always have the option to upgrade to a full version of the system if they wish to manage projects for non-DocBoss buyers.
Keep your existing system.
Keep your existing document system!
DocBoss is specifically designed to function as a vendor document/data collection system. After you validate the submissions, push them (and the metadata) directly into your existing document control system, and engineering system, then initiate workflow processes. When ready to return to your vendors, just push them back via DocBoss.
Or, extend DocBoss further into your organization…
If you currently execute all document control and data review processes manually, add our optional workflow module to automate your internal routing and review process.
Or, extend further to manage customer-facing submissions.
If you are faced with submitting documents to your client, you can add the DocBoss client function into your system. Track submissions to your client the same way you track submissions to your vendors. No IT support needed. We live in the cloud.
No servers to buy, no software to install. Just point your browser to DocBoss.com and start submitting your vendor documents. Also – because DocBoss was built for your industry – there is no development to make it work for you. Everything is ready to go.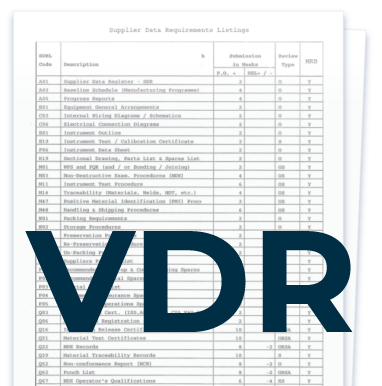 What are Vendor Document Requirements?
Purchasers often define the type of documents that vendors must supply as part of the supply contract.
The Vendor Document Requirements (or VDR) is the list of those document types. Each line typically includes a document code, description, and delivery timeline (e.g. 10 days after order). The VDR will also identify which codes should appear in document compilations like manufacturing record books, shipping dossiers and the like.
Note that while we use the term Vendor Document Requirements (VDR), this list goes by many names. Supplier Document Requirements (SDR), Seller Data and Drawing Requirements (SDDR), Vendor Data and Document Requirements (VDDR). Supplier Document Requirement List (SDRL), etc…
Focused largely on tagged equipment, DocBoss minimizes the manual work required to deliver project documentation.
We are here to answer any questions you may have about DocBoss and how we can help you improve your document control workflow.
Office Location
Suite 375
440 10816 Macleod Trail SE
Calgary AB Canada
T2J 5N8