Is your document control work at the point where you know you have to do something to improve it, but don't know where to start? Most customers started using DocBoss when they came to the realization that they simply couldn't continue doing things as they were.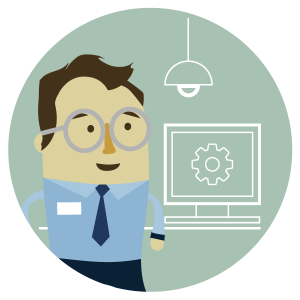 One of the first companies to use DocBoss is Tundra Process Solutions from Calgary, Alberta. Here's their story.
A Chance Introduction
Calgary's Tundra Solutions began in 1999 and sells services and industrial equipment to Oil & Gas, Commercial and Institutional customers. Iggy Domagalski, COO of Tundra, noticed an increasing demand in document requirements from customers, saying, "What was OK in the past is no longer OK". Wanting to ensure Tundra remained well positioned to deliver to growing customer demands, he described his encounter with DocBoss at a trade show, and the subsequent decision that it would help support their efforts. Amanda Christie, Tundra's Lead Document Controller, echoed Domagalski's comments, after lending her 15 years' experience in document control to the product evaluation.
Increasing Workload
While proficiently using Excel, Word and Adobe software to manually alter and track documents, Christie has experienced first-hand the value of DocBoss. With hundreds of documents on most orders, Christie said, "industry activity is picking up and we seem to be getting larger orders and more documents to control." Before using DocBoss, Christie and her team would manual apply cover pages, headers and footers to each document, while using complicated spreadsheets to track every movement of every document. Her confidence and efficiency in handling larger projects has increased with DocBoss. She said, "Since there is no foolproof rule of thumb we can use to define the size of a project we take on, we now know we can handle even larger ones."
Domagalski mentioned that although Tundra confidently managed large projects prior to DocBoss, he is always on the lookout for ways to reduce the time spent handling documents, and managing document review processes. Christie estimates that 75% of the documents Tundra handles require multiple reviews during a project. DocBoss helps Tundra keep track of individual document status throughout multiple review processes. Christie added that the ability of DocBoss to automate the addition of customer specific cover page templates to every outbound document was another time saver. Finally, being able to create record books with a button click sealed the deal.
A Personal Preference
Christie commented, "Document Control practices have a personal taste and vary by company." She added, "Although the product is flexible, we find it easy to discuss our needs and preferences for new functionality with the DocBoss team." Domagalski held similar views and, although Tundra looked at some other products, none of them has the specific focus the found in DocBoss. He felt DocBoss was the right answer because the product designers had struggled with the same issues. They lived in our industry. He added, "I would not have purchased DocBoss if my company did not see a benefit to using it in their work. It had to help us deliver value to our customers… and it does that. DocBoss appears to be a good fit for our business."
Easy to Use
When considering ease of use, Christie described how an experienced Document Controller can quickly become an efficient user, and that people new to document control can come up to speed with some support. She mentioned that the training Tundra received was a combination of on-site and Internet presentations. The implementation went smoothly, and having no local software made it easy to get started. With respect to support, Christie said that "If we have a question or a problem, we can usually get help on our first call and the longest we had to wait for an answer to our questions was maybe an hour or so. We know that no product vendor can add features to a product overnight but the DocBoss people understand our specific needs, and have been very accommodating." As she learned more about DocBoss, she has found more things it can do to help her in her everyday tasks.
Moving Forward
Domagalski summarized Tundra's use of DocBoss by saying, "If we didn't have it, we'd have carried on as we did before and continued to look for better ways to do our work. Fortunately, we found a tool that helps us continually improve our business." This comment was similar to those expressed by Christie. She sees it as powerful tool that helps Tundra deliver more efficiently to their customers.