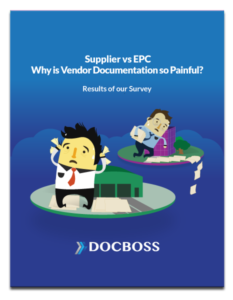 Last month we released our long-awaited survey entitled "Supplier vs EPC Why is Vendor Documentation so Painful?" If you haven't already downloaded it, please do so now so you can read the report in detail at no charge.
We surveyed 106 respondents – 45 suppliers and 61 EPC organizations – and asked them to explain the difficulties that they have working with one another. They come from a range of industries and company sizes and the respondents take part in document control, project management and inside sales roles. The survey goes into great detail regarding issues that they experience while exchanging documentation and how they can do it better.
If you're an EPC or a supplier who takes part in manufacturing, fabrication or distribution of pumps, instrumentation, valves, tanks, skids or other process equipment, this survey will be very enlightening with regards to how you can do your documentation work better.
You can download the full survey results here.