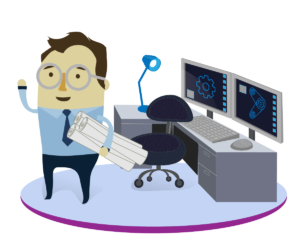 Is your project team bogged down delivering documentation?
Record books, cover pages, transmittals, csv files, document registers, transaction history, approval status, file naming formats, etc…
Once documents begin to flow back and forth between you and your customer(s) during a project, it can be difficult to manage them, figure out which document is the most recent, and to keep track of who is in charge of taking care of what.
DocBoss can help.
Here's what DocBoss does to ensure your documentation is done right, the first time:
Create the Document Register
Early in your project, the document register must be submitted to the EPC. It can be a time consuming process to identify each required document, and the tags connected to each doc. As change orders arrive, maintaining the correct document register can be overwhelming. DocBoss combines your order information with the EPC's list of required doc codes (SDR codes) to create a comprehensive document register. As order information changes, the register is quickly and easily updated.
Manage the Document Register
As documents begin to flow, various data points must be maintained for every document. These include submission dates, doc numbers, statuses, etc. Documents are added, merged and eliminated. Your users never touch the document register which is automatically updated as documents get processed through the system.
A complete overview of your project is available in the document status window. At any time, a copy of the full document register, including all of the transmittal history for every document can be supplied to the customer.
As a supervisor, the interface also allows you to identify potential issues in the supply of the project. We provide drill-downs to identify the number of documents in each of several statuses.
Request/Expedite Documents
Often, documents are skipped in the supply process. Docboss supports internal expediting, allowing your team to send expedite requests to other team members, or to sub-suppliers.
Document Manipulation/ Massage
DocBoss handles required formatting and massaging of every document and compilation. Upload your original documents to our portal, and we massage them according to the project requirements. Cover sheets are created, and appended to each document, complete with tag lists and other required data fields. Headers, footers, file naming, page numbers and other format details are all applied automatically to your documents, every time they are submitted.
Submittals
Creating submittals in DocBoss is a one click affair. When you are ready to send a batch of documents, DocBoss creates a single zip file containing all required documents. Of course, each document is correctly formatted,
but we also create the submittal sheet listing all contained document (in the proper project format). Various other sets of meta data are available, and can be included to meet the project specifications..
Manage returned documents
Upon return of your documents, they are again passed to DocBoss for handling. Because we add QR codes to outgoing cover pages, we automatically recognize the documents when they are returned. OCR (optical character recognition) helps to decipher the customer statuses and mark ups, to further simplify processing. Documents which require further handling can be routed to admin or technical team members, or (in the case of representatives and distributors), transmitted to the sub vendors. Once the correction have been made, the documents are automatically queued for re-submission to the EPC/Owner.
Generate complex data books
To simplify project completion, DocBoss creates fully compliant record books. We generate all bookmarks, hyperlinks, tables of content, indexes, document sectioning, page numbers etc… We also verify the existence of all documents before and after the creation of the data book (which, of course, you can regenerate at any time).
Check out www.DocBoss.com to learn more.