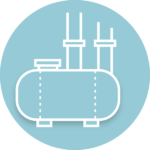 The global pressure vessels market size is expected to reach USD 250.6 billion by 2027 registering a CAGR of 5.2%. 

Research and Markets
Even with the continued effects of COVID-19, the global pressure vessel market is expected to grow by a 5.2% compounded annual growth rate in the 2020-27 timeframe. In particular, the chemical & petrochemical and oil & gas sectors are expected to drive this growth.
The Asia Pacific region has the single largest market share for global pressure vessel sales with nuclear power and the expansion of the oil & gas and chemical sectors responsible for the region's output. Europe is the second largest market more due to technological advancements in pressure vessel technologies.
Check out an overview of the report by clicking here.