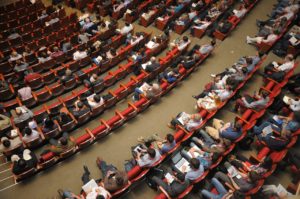 Here are a list of upcoming oil & gas-related trade shows taking place in early 2018 in various parts of the world.
European Gas Conference
The 11th annual European Gas Conference runs in Vienna, Austria from January 29-31, 2018.
West African International Petroleum Exhibition and Conference (WAIPEC)
WAIPEC takes place on February 7-8, 2018 in Lagos, Nigeria and remains the only such show partnered directly with Nigeria's petroleum industry.
GOPE 2018
The 2nd International Conference on Gas, Oil and Petroleum Engineering (GOPE-2018) takes place from February 26-28, 2018 in Houston, Texas.
SPE Heavy Oil Technical Conference
The SPE Heavy Oil Technical Conference takes place on March 13-14, 2018 in Calgary, Alberta. Early bird sign up ends on February 12, 2018.