What's the difference between "Download Status Report (CSV)" and "Download CSV" via the Add/Edit Data via CSV icon in DocBoss?
I've been asked a few times about the difference between downloading the Status Report (CSV) and the Download CSV via Add/Edit Data via CSV card. As similar as they are, they both have very different functions.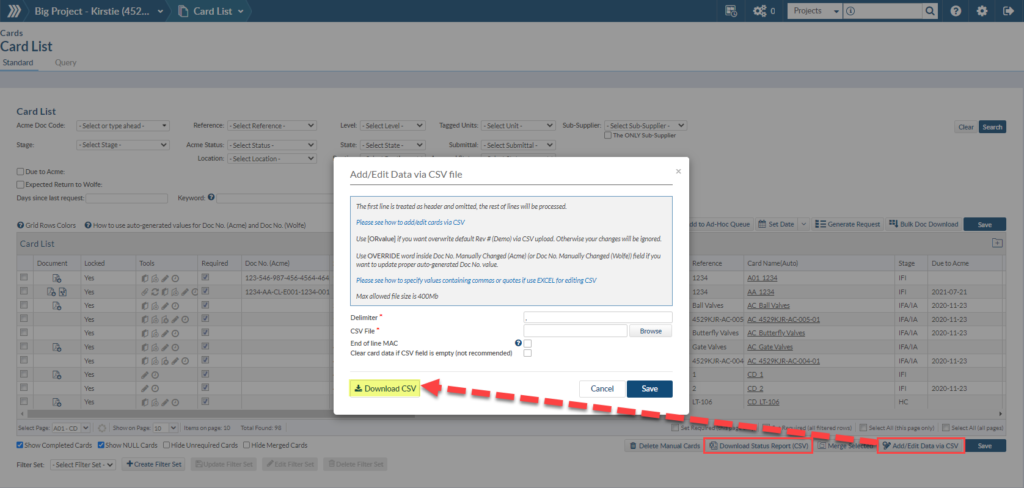 Although both options produce a similar looking CSV report, Downloading the Status Report CSV is just that: It's a report that shows the current status of all cards, as well as all the metadata for that card. The columns will match what your current card list is displaying.
To add/remove columns being displayed on the Status Report, simply update your card list and Download the Status report again. This is only a report and should not be used to add or edit cards.
Here is an example of the Status Report.

Downloading the CSV via "Add/Edit Data via CSV" produces a CSV with all required columns to upload metadata. This is the report you should download to add new cards or edit the existing metadata. Simply make your changes, browse to the revised CSV and upload back into DocBoss.
Here is an example of the CSV downloaded via "Add/Edit Data via CSV" – Note the columns are different, as well as the "*" in some of the column headers, indicating required fields.
I've seen a few urgent Help messages that the CSV won't upload! Many times, it's because the Status Report was edited and the user tried to upload the status report via Add/Edit Data. Understanding the difference between the two can help avoid confusion when it comes to editing your cards via CSV.
If you still use Microsoft Excel for your document control work…you might want to read an older article we published from several years ago by clicking here. The information is even more relevant today regarding how DocBoss can help automate your document control work.