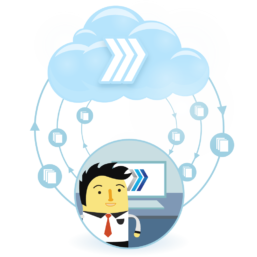 DocBoss users have access to every feature available. There is no Pro version or Premium version that costs more that adds functionality. Every DocBoss user has access to the same features as everyone else.
With that in mind, here are a few features and benefits that you might be interested to know about that helps to make your document control work a bit more manageable.
Clear warnings for "Not Downloaded by Customer"
DocBoss provides your customers with a secure link to download their project documents at the end of each project. The link can be set to expire after a period of time set by you, for security purposes. While many companies supply their customers with an emailed version of their documents, our document control survey suggested that this isn't necessarily the preferred way they like to receive them.
On the projects dashboard, DocBoss warns you if customers have not clicked the download link in the transmittal notification. In some cases, these warnings are no longer useful. You can manually clear these warnings. You can also extend the download link's accessibility as required.
Dashboard
Your DocBoss dashboard has a number of features you can use to make your project work easier.
Lenses
We have added Internal Codes as an option to dashboard lenses. Now, if you have set up internal document codes, you can use them to skin the project cards. Looking for data on calculations, but each customer uses a different code? Now you can apply a lens for you internal calculations code, and the data will dance!
Edit data on collapsed card view
Administrators may now edit the data being displayed on all 5 rows of the collapsed project card. The settings are available in the admin / general area.
Configure groups (screen update)
We have updated the screen to configure groups on the dashboard and added the ability to have a group for each segment you define (i.e. a group for each customer).
Internal Statuses (output text)
DocBoss maintains an internal status for each register. Sometimes – those statuses should be output to an index report, but our explanation isn't sufficient. Now you can enter your own description for the internal statuses, and use a new index variable to include it in your report.
Edit Custom Fields on Obsolete Registers
Once a register has been moved to the obsolete area, users can now access and edit the customer fields associated with it. This can be helpful if you are including the registers on index reports, and need to change specific pieces of data.
This is just a very short list of some of the interesting features that you might find useful. Check out our comparisons page on the DocBoss website to see how we compare to other methods of document control that you might currently employ.