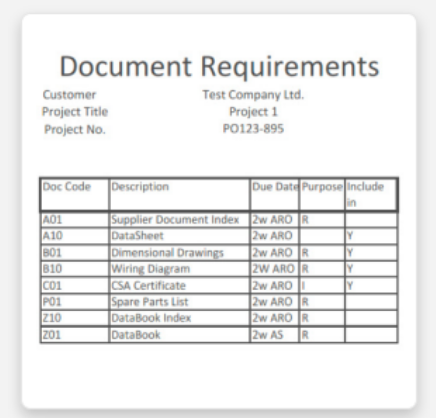 Purchasers often define the type of documents that vendors must supply as part of the supply contract. The Vendor Document Requirements (or VDR) is the list of those document types. Each line typically includes a document code, description, and delivery timeline (e.g. 10 days after order), The VDR will also identify which codes should appear in document compilations like manufacturing record books, shipping dossiers and the like.
Note that while we use the term Vendor Document Requirements (VDR), this list goes by many names. Supplier Document Requirements (SDR), Seller Data and Drawing Requirements (SDDR), Vendor Data and Document Requirements (VDDR). Supplier Document Requirement List (SDRL), etc.
At the beginning of each project, you load the VDR you receive from your customers into DocBoss and let it do its thing: DocBoss will build your document register and update it over time as changes are made.
With a unique solution which creates and links the document register to the order data, DocBoss systematically creates document metadata (including document specific tag lists).
We then use this data, (along with a heavy dose of document management and document formatting magic), to comply with document submission specifications. The DocBoss system appends customer specific cover sheets to every document, includes all relevant metadata (including tag lists), tracks approval status, location, transaction history and due dates.
Download our free industry survey here in PDF form to learn more about how DocBoss will automate many document control tasks you may currently be doing manually.