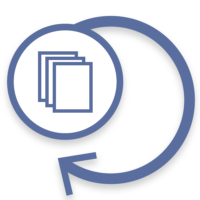 How do you store and distribute project documents when a project has been completed? Some customers might like information mailed or emailed to them. Maybe you need to prepare a CD for a project. Or maybe you're just done with DocBoss for awhile…
At any point, you can take a full backup of your project from DocBoss. Every version of every document can be downloaded in a bulk archive action. Whether you just want a local copy, want to remove the project from DocBoss, or want to stop your subscription, the data is your, and you can get it anytime you like.
This is a common concern for customers when they use a web-based application like DocBoss. They wonder who owns their information and what sort of access they have to it. You own all the information on DocBoss, we just store it for you. And as mentioned above, it's always available to you on demand.
Data Security With DocBoss
How carefully is data stored within your organization, especially data that is critical and private? Here's how DocBoss ensures secure storage of your project information.
Logical
Integrity is managed through verification procedures inside our application. Block level backups are run on small intervals, and full backups are prepared on a daily basis. If there are issues with data integrity, restore procedures are available and documented. All transactions are logged.
Redundancy
System redundancy is managed as a combination of Amazon hosting, backups and VM instances. The physical redundancy is managed by amazon (all hardware, internet access). System redundancy is manage with duplicated servers and redirects in case of downtime.
Backups
All document uploads are backed up inside the host amazon facility, with block level backups to a secondary facility with 5 minute increments. Database replication processes every database transaction to redundant servers, and additionally pushes the SQL logs to backup systems. Full system backups occur every evening, wiping SQL logs and refreshing backup systems. In case of a physical explosion eliminating the local Amazon server farm, our customers could face a maximum of 5 minutes data loss.
If you'd like to learn more about how DocBoss can help your project work, drop us a line and we can set up a free online demo to show you more.