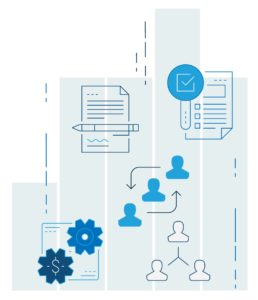 DocBoss helps process equipment suppliers manage and deliver custom engineering documentation to their customers in the instance where the document control function is time-consuming and frustrating.
DocBoss is especially helpful to companies who tag their products, work with a bill of materials and/or vendor document requirements list (VDRL) and must provide increasingly customized documentation to their customers at the end of projects.
DocBoss customers include manufacturers, distributors and fabricators who provide a wide variety of products including pumps, valves, instrumentation, pressure vessels, skid packages and actuators among others.
Key Points
Advantages of electronic systems over manual processes
Increased efficiency and accuracy
Improved collaboration and communication
Cost savings
Advantages of electronic systems over manual processes
DocBoss automates many documentation tasks that are often done manually. More manual work leads to mistakes which in turn leads to costly rework and unhappy customers.
DocBoss automates the document numbering, for yourself, and for your customer. Having a structured numbering convention is a critical piece of successful document control. DocBoss users can program the customer convention into the system, and DocBoss will assign all customer numbering. Of course the same is true for the supplier numbering.
Increased efficiency and accuracy
Microsoft Excel is a spreadsheet application with severe limitations since it was not designed specifically for document control even thought many doc controllers use it because that's what they are provided with. Excel no longer become suitable to handle document control when more than one person uses the spreadsheet, you have multiple locations, you add data on a regular and recurring basis or if you routinely produce custom documentation for different customers.
Once your organization starts regularly handling projects in excess of 15 customized documents, you might be doing yourself and your customers a disservice by continuing to use Excel or another manual, non-document control specific method.
Improved collaboration and communication
DocBoss was designed with companies that have multiple locations in mind. Since DocBoss is a web-based application, all users need is a browser to log in from anywhere in the world to access it. Collaboration is easy and document control staff can work together to contribute to projects and always know who made what changes and when.
And since DocBoss users are named users, they simply login with their own personal user name and password. No more wondering when a change was made, which document is the most recent, or which staff member changed or added a document since DocBoss tracks all of this for you.
Cost savings
First off, there is a cost to the documentation work you for customers. Your staff spend time doing the work which is a cost to you. The longer you spend doing work and rework, the more money you spend.
And if you face holdbacks at the end of projects, you have to wait to get paid which costs you money.
Also, suppliers often roll the costs for document control into the overall project cost. While this is suitable for large custom equipment the cost for document control quickly becomes unsupportable for high volume, smaller equipment. The DocBoss quote module allows users to make use of the DocBoss structure to define the document requirements and provide a clear, easy-to-read, quote for document services. Generally provided as an appendix to the equipment quote it makes your document quotes consistent and gives your customers a detailed breakout of the work they are receiving.
Lastly, it helps define the price structure at the quote stage, so variations can be negotiated as the project grows in scope.
Here's a short video illustrating how cost savings can occur with DocBoss with regards to your documentation work: